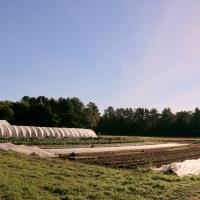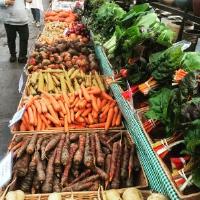 Two Farmers Farm
Contact: Kelsey and Dominic
Address: 168 Cleavers St. #B Biddefford, ME, 04005
Email Address: kelsey@twofarmersfarm.com
Phone: 207-205-9870
About Us
Two Farmers Farm is a Certified Organic four-season vegetable farm located on a historic family farmstead in Scarborough, Maine. Our fields lie between the clamor of cars and trucks on Route 1 and the delicate ecology of Scarborough's saltwater marshes. We are passionate about feeding our friends and neighbors while protecting the unique ecosystems that surround us.

Our land has been farmed since the 1800's, and we began farming it in 2012. We are proud to be continuing the agrarian tradition on this unique property. We manage about 15 acres of total cropland, and we use that acreage to rotate 5 acres of mixed vegetables and 10 acres of soil-building cover crops every season.

Our soils are a combination of sandy loam and loamy sand – beautiful, light soils that grow excellent root crops, tomatoes, salad greens, celery and more. Our well-drained fields are also well suited to winter vegetable production, which we undertake inside our large high tunnels and smaller hoop houses. We are just a few miles from the ocean, and the sea breeze helps keep our crops healthy and disease-free. The woods, brooks and marsh that surround our farm provide natural habitat for beneficial insects and critters that support our cropland.
Practices
CERTIFIED ORGANIC by the Maine Organic Farmers and Gardeners Association (MOFGA). Like all certified organic farms, we are also 100% non-GMO.

GAP CERTIFIED by the US Department of Agriculture. This "Good Agricultural Practices" certification is a federal food safety program and demonstrates our commitment to providing safe, healthful food to our community.

FSMA COMPLIANT as determined by the US Food and Drug Administration.