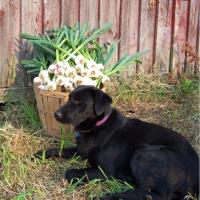 Groundswell Farms
Contact: Jeff Cantara
Address: 31 Doe Farm Ln. Newmarket, NH, 03857
Email Address: jeffcantara@yahoo.com
About Us
Groundswell Farms is the new project from Jeff Cantara, co-owner of New Roots Farm from 2002 until 2018. Located on the same site and comprised of the same fertile soils, the farm consists of 70 acres of conserved land in Newmarket, NH. It is a diverse landscape comprised of woodlands, wetlands, pasture and vegetable fields. This land has been farmed for over 250 years and I am the proud steward of it today.The land has been certified organic since 2005 and 2019 marks the start of our transition to no-till/minimal plastic practices as well as the integration of permaculture-inspired perennial plantings into the operation. It's my mission to supply the Seacoast with mindfully-grown, flavorful, and healthy food that is the product of regenerative agricultural practices.

If you loved New Roots Farm's famous tomatoes, give these a shot and taste the flavor that is possible when soil is managed to create highly nutrient-dense crops! Cheers!
Practices
00% GMO-free and Organic. Whether you are buying plants for your home garden, food and flowers for your table or hay for your livestock, it's all organic.